4 Awesome Bathroom Remodeling Trends for 2015

Every year ushers in new trends in the world of bathroom remodeling.
2015 has brought in some pretty exciting changes and new ways to revolution the space and function of your bathroom. If you are ready to bring your bathroom into the future with a remodeling project, it looks like now is the time!
Here are the most popular bathroom remodeling trends for 2015:
Toss the Tub
More and more people are opting to leave the bathtub out of their bathroom remodel altogether.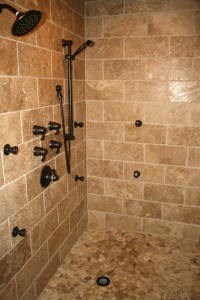 Stand up showers are elegant, use less water and generally fit better into our busy lives. People just don't have the time in the mornings to go all-in for a bath when they could practically take a whole shower in the time in takes to fill the tub.
Those who are not pressed for space are still ditching bathtubs in favor of much larger and feature heavy stand-alone showers. Multiple showerheads, waterproof speakers, benches and storage are just some of the ways people are bringing their showers into 2015.
New Styles of Tile
One way to make your bathroom stand out is to install a floor that "pops." Remodelers are finding that the best way to do this is by using bold styles of floor tiles. People are using odd shapes, bright colors and uncommon patterns to make their bathrooms feel fresh unique.

Tiles allow interior designers to dictate the flow of the bathroom. Square tiles create order while rectangular tiles can produce an entirely new feel; almost like an organized chaos.
With more and more interest in radiant floor heating, tile fits into the needs of those who always keep an eye on the future of luxurious living.
Feeling Gray
Beige has had a good run as the standard wall color, but it seems like its time has come to an end. It looks like gray is the new modern standard for both bathroom and kitchen walls.

Lighter, earthy hues of gray are taking center stage this year, rather than colder tones. Gray is a fresh alternative; mostly because it provides a modern feel and plays well with appliances and fixtures that incorporate glass and chrome resulting in an almost futuristic feel.
Custom Storage
Rather than the standard shelves and cabinets, people are requesting vanities that meet their specific needs and style.

Floating vanities are increasing in popularity, providing a sleek and custom look that can be totally unique to your bathroom. A custom design can maximize storage space and create an illusion of spaciousness.
Custom vanities can also match the style of the rest of your bathroom and play off of the look of a gorgeous walk-in shower or other feature.
Home Remodelers Murfreesboro TN
Are you ready to update your master bathroom? Contact Farrer Construction in Murfreesboro today!